Symbolic notation example
2KTPK-E -TVK-100/10/0,4 U1

Two-transformer KTPK of a cabinet type of JSC "Energoprom" is single-ended, with high voltage (HV) air input and low voltage (LV) cable output; power transformer capacity is 100 kVА, power transformer voltage is 10 kV, output LV is 0,4 kV, climatic modification and category of installation is according to GOST 15150-69 - U1.

For the order for KTPK production it is necessary to fill in the questionnaire giving full information of component parts and to enclose the electric scheme as shown in a sample (figure 2.7).

Features of functional performance
Depending on their functional performance, KTPK are produced of two basic types:
single-ended one-transformer KTPK with capacity from 25 up to 630 kVА inclusive;
single-ended double- transformer KTPK with 0,4 kV automatic standby activation (ASA) unit, with capacity from 25 up to 630 kVА inclusive.
For each modification two ways of input connection are provided: air and cable. Air input box is intended for overhead transmission lines connection.
Electrical schematic circuits of KTPK main circuits are performed in accordance with the type design ЭПСЗ.674821.00Х or at request of the customer.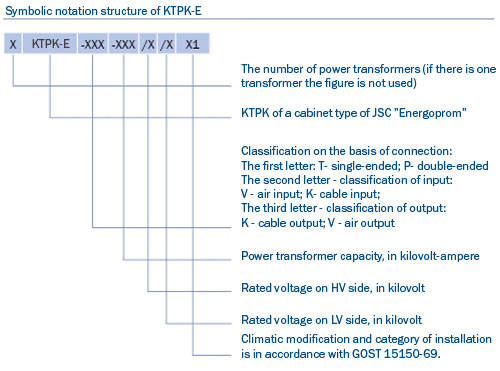 Operation conditions

Regarding environmental climatic factors influence, KTPK corresponds to the climatic modification U, category of installation 1 in accordance with GOST 15150-69 and GOST 15543.1-89: outside temperature for modification U1 is from minus 45 up to plus 40°С.
Environment isn't explosive, not containing current-conducting dust, aggressive gases in concentrations destroying metals and insulation. Atmosphere type II is in accordance with GOST 15150-69. Regarding mechanical factors influence, it corresponds to M6 operation conditions group in accordance with GOST 17515-72.

Target life of KTPK in accordance with GOST 14695-80 is not less than 25 years (if carrying out maintenance or components replacement in accordance with operational documents instructions for particular KTPK types and their components).
KTPK is installed on beforehand prepared platform or foundation blocks providing snow and rain waters venting. For areas with high snow cover level it is allowed to install KTPK on a pedestal up to 1, 5 m high.

At the request of the customer KTPK service platforms can be produced.

Design and action
Structurally KTPK represents a metal cabinet consisting of:

high voltage device compartment (HVD);
power transformer compartment (PTC);
low voltage distribution device compartment (LVDD);
air input box (AIB), in case of air power supply.
All compartments are located on one base with transport slide and under one roof. If air input is used a box with bushing insulators, bus bar bridge and bracket for pin-type insulators is installed on the roof.

In HVD compartment one prefabricated chamber of single-ended service (KSO) with the following components (depending on the order) is installed:

break switch of RVZ10/400 type for KTPK with capacity up to 160 kVА inclusive;
load-break switch of VNA(L)-10/630-20 type for KTPK with capacity over 160 kVА;
protection devices of PKT type.
For pressure release of arc gases formed at short circuit (SC), in HVD floor a valve is provided. HVD doors withstand the force of arc gases influence. In HVD floor there is a hole, gasketed with rubber, for entrance cables.
In KTPK there are electric and mechanical blockings providing safe work of the maintenance personnel.
Power transformer chamber (PTC) represents a metal compartment which base is designed for installation of any type power transformer: oil and dry-type transformers. PTC compartment doors have shutters for air inflow and outflow providing the transformer cooling, thus the rate of protection is not less IР23. When it is cold, shutters can be closed by a flap. In PTC bottom the hole for emergency transformer oil dumping is provided.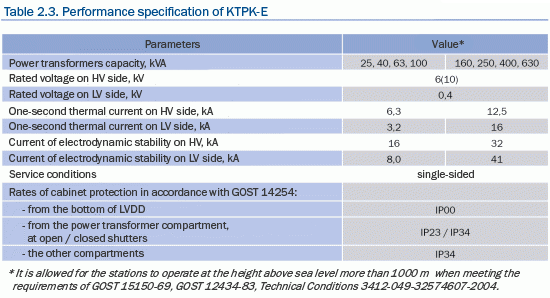 LVDD compartment represents a metal jacket in which the following components are installed:

power switching facilities;
accounting case with electricity supply meter with the system of automatic air heating at low temperatures;
devices of protection and automatics in ASA, in case of two-transformer KTPK.
The components are installed on the perforated channels.
As switching units of outgoing feeders, in LVDD automatic switches (of stationary or sliding modification), and also blocks "circuit breaker–fuse" can be applied.
In LVDD compartment for keeping the temperature necessary for normal operation of its components, heating elements are installed. They are switched on automatically by heating controllers signals.
To provide more reliable power supply circuit of customers a double transformer substation is used, i.e. two substations are connected on 0,4 kV side with a cable and with arrangement of ASA. It is possible to apply ASA both with dwell time, and without it.
HVD and LVDD doors are locked with keys with different secrets and have anti-burglary modification. Doors are provided with clamps preventing spontaneous closing because of wind. For rain protection a removable shield above the doors can be made.
The problem of moisture condensation in KPTK is solved with the help of quite effective system of natural ventilation through special windows with regulated shutters.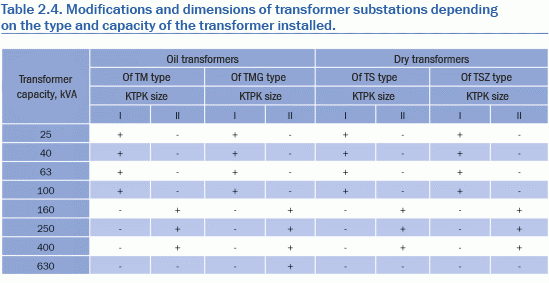 Additional data
KTPK metal jacket is sprayed by the modern anticorrosive polymeric powder providing resistance to the most adverse climatic environmental influences.
KTPK meet the requirements of GOST 15543.1-89 regarding solar radiation influence (KTPK jacket is sprayed in a light color). At the request of the customer a change of color is possible, and also drawing of various logotypes on KTPK jacket.
At the request of the customer the application of 0, 4 kV import switching devices (for example, Schneider Electric) is possible.
The output of 0, 4 kV switching equipment (automatic switches) to automatic control system (telesignalization system) is possible.
In KTPK internal lights of compartments are necessarily installed. At the request of the customer external lighting of KTPK is possible.
When ordering KTPK with air input or output, the installation kit with necessary components (insulators, bus bars) for air input box installation on construction site is delivered.
When ordering double KTPK, the installation kit includes a cable connecting two substations on 0, 4 kV side.
At the request of the customer the installation kit can additionally include any required equipment (for example, line insulators of RLK type).