History of the company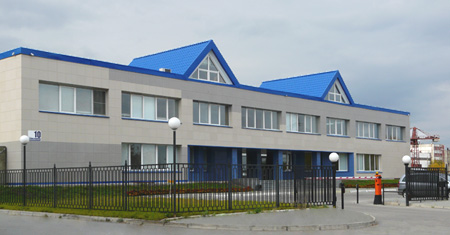 Joint Stock Company "Ozersk plant of power devices "Energoprom" was founded in 1991. For 17 years JSC "Energoprom" has been producing and delivering to the Russian and CIS markets power electrical equipment which is highly appreciated in different industries: oil, gas, reprocessing, chemical, mechanical engineering, power, construction, providing the largest enterprises of Russia with its production.
• JSC «Transneft»
• JSC «Gazprom»
• JSC «Rosneft»
• JSC «Lukoil»
• JSC «TNK-BP»
• JSC «Surgutneftegas»
• JSC «Ritec»
• JSC «Bashneft»
• JSC «Novatek»
• LLC «Novatek-East Tarkosalinskoye»
• ÇÀÎ «ßìàëãàçèíâåñò»
• JSC «Salym Petroleum Development»
• JSC «Russian Railways»
• LLC «EvrazHolding»
• JSC «Uralsvyazinform»
• LLC «Tobolsk-Neftehim»
• JSC «Ñëàâíåôòü-Ìåãèîííåôòåãàç»
• JSC «Serov Ferro-alloy Plant»
• JSC «East-Siberian Gas Company»
• JSC «Sayanskhimplast»
• ÔÃÓÏ «Ìàÿê»

In 2005 the international quality management system ISO 9001:2000 was introduced at the enterprise. Safety of its production is proved by the certificates of conformity of Gosstandart of the Russian Federation. JSC "Energoprom" has got licenses of Gosatomnadzor giving it the right to design and manufacture products for nuclear power stations.
For preproduction the modern means of computer design connected by a local network with NC machine tools are used. Introduction of integrated automated design systems "AutoCAD", "Solid Works", "DWG editor" and systems of technological processes design has led to the timing of orders reduction. The project of introducing the computer-aided ERP-control system has been successfully put into operation at the enterprise on the basis of software product "1Ñ: Enterprise 8.0. Industrial enterprise management".
JSC "Energoprom" produces and delivers electrical products in complex according to the specification of the customer, and also carries out installation, chief-montage and precommissioning.
At the company there is a constant process of modernization: the equipment of the leading world and domestic manufacturers used for production is the following:
• Laser cutting complex "Bysprint-3015" (Switzerland)
• Contour band machine (Italy)
• Shearing press (Holland)
• Modern revolver punching press FINN-POWER
• Welding equipment "Messer Griesheim" (Germany)
• "Ozersk" spray line (St.Petersburg) with the use of powder paints
• Plate bending machines FINN-POWER
Perfect technologies, powerful scientific potential and effective management allow the company to execute orders of any complexity - from generating an idea and preparing project documentation to production output, which is completely ready for operation, and to represent itself as the prime contractor from the blue-print stage and up to the ready for operation object.
It was in 2000 when foreign companies have become interested in the activity of "Energoprom" for the first time. Representatives of the French enterprise SCHNEIDER ELECTRIC have visited the factory and chosen it as its strategic partner. "Energoprom" technical personnel have been trained in the Moscow office of SCHNEIDER ELECTRIC. After that durable contacts have been established with companies RITTAL (Germany), MOELLER (France), Legrand (France).
Participating in various conferences and symposiums, JSC "Energoprom" has been holding scientific and practical seminars on the basis of the enterprise since 2002. While only about 30 people took part in the first seminar, more than 100 people from 47 organizations (from 22 cities of the Russian Federation and CIS countries) participated in the fifth anniversary seminar, taking place in May, 2006. For this period more than 50 reports on "Energoprom" production and 34 reports of our partners have been presented.
Modern manufacture of JSC "Energoprom" and constant modernization of all parts of work process is a guarantee of non-failure operation of the equipment even under the most severe operating conditions. Standards compliance, careful selection of component parts and materials suppliers, timely execution of orders characterize corporate identity of JSC "Energoprom".